This outreach program is a mature version of the R&R class. It is to provide help to men and women (18+) learn about themselves and their purpose in life through the study of biblical principles, self-exploration, and social awareness. Remnant for Relationship teaches men and women how to identify, create and/or function in positive relationships using the "Fruit of the Spirit" (Galatians 5:20) as a foundation. These classes are offered separately for men and women. 
Hurt, offense, resentment, and anger among others for many of us, are results of personal experiences and/or exposure to past failed relationships (family, friend, church, work, etc). Many of these experiences which have left you feeling this way happened years ago and some as early as early childhood however you are still haunted by these feelings which in many cases are the cause of many of our choices as adults. Many times the pain and the scars left "way back when" were never dealt with, leaving us and not fully understanding our worth and value. Or maybe you have allowed the one person that hurt you to cause you to live a life of bitterness and/or defeat. These feelings are real and legitimate but how long are you going to let these unresolved emotions drain you from fully enjoying life? We only get ONE life. IT'S TIME TO GET RID OF THE BAGGAGE, TEAR DOWN THE WALLS OF YOUR PAST AND WALK IN YOUR PURPOSE. 
Remnant Premier for Women Fall 2020
This form stopped accepting submissions on December 1, 2020 6:30 pm EST.
Remnant Premier for Women Fall Session (8 Weeks) October 13, 2020 to December 1, 2020 This year the class will be held online. More details will be provided when you register. Deposit to register is $50 to hold your spot. $200.00 Cost includes books and administrative cost If paid in full by the first class the cost is $150.00 Payment Plans are available For more info: Minister Brandy 317-626-8711 Pastor Yvette 317-709-3518
Remnant Premier for Men Fall 2020
This form stopped accepting submissions on November 3, 2020 6:30 pm EST.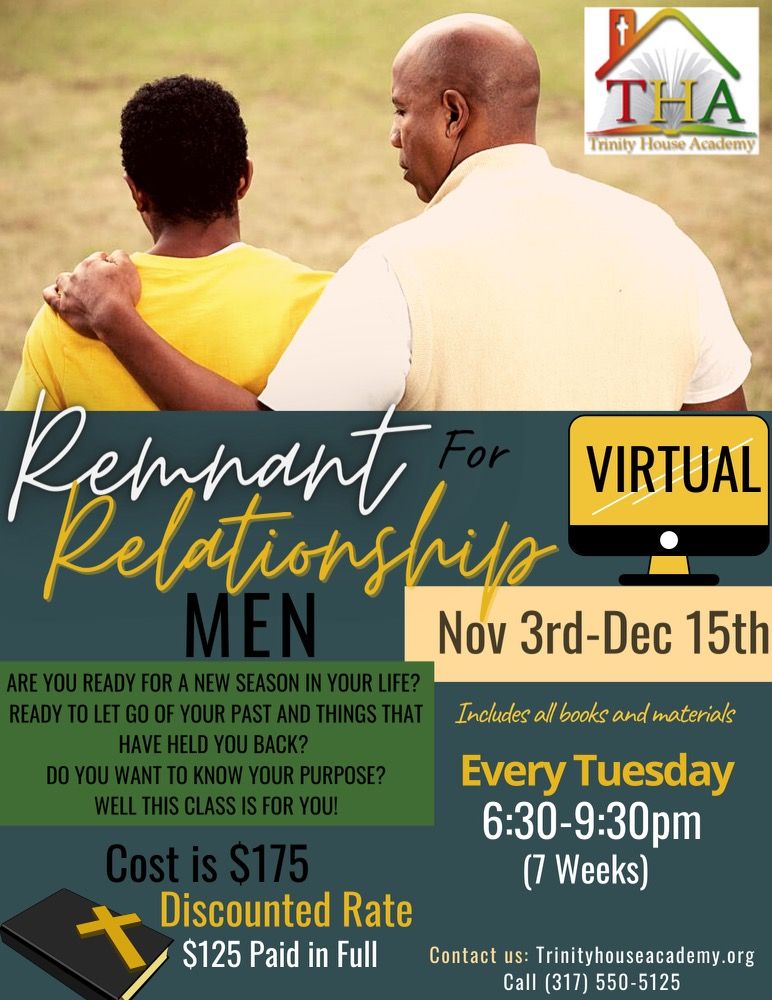 Remnant Premier for Men Fall Session (8 Weeks) November 3, 2020 to December 15, 2020 This year the class will be held online. More details will be provided when you register. Deposit to register is $50 to hold your spot. $175.00 Cost includes books and administrative cost If paid in full by the first class the cost is $125.00 Payment Plans are available For more info: Minister Brandy 317-626-8711 Pastor Yvette 317-709-3518